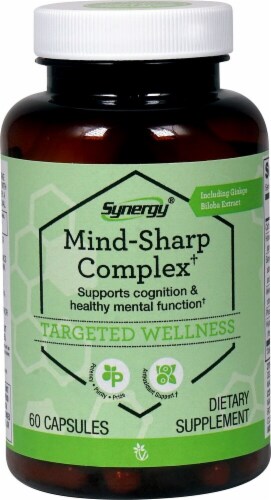 Hover to Zoom
Vitacost Synergy Mind-Sharp Complex Capsules
Product Details
Mind Sharp in an advanced formula designed to provide an optimal balance of brain circulation agents, neurotransmitter precursors and powerful natural brain chemicals to help support cognition and healthy mental function.* It contains the following nutrients per capsule:
Cat's claw: Also known as "uña de gato," cat's claw. It's been shown to support healthy DNA.* 350 mg.
Horse chestnut extract: Commonly used in European herbalism, horse chestnut extract is derived from the seeds and bark of the plant of the Aesculus tree.140 mg.
Ginkgo biloba extract: Extensive scientific evidence validates the herb Ginkgo biloba's ability to promote healthy cognitive function in the young and old.* 60 mg, standardized to 24% ginkgo flavoglycosides and 6% terpene lactones.
Dopa bean extract: Known as ''the cowhage'' or ''velvet'' bean and ''atmagupta'' (in India), dopa bean is a climbing legume native to India and the Central and South American tropics. In Ayurvedic medicine it's used to support nervous system health.* 20 mg, standardized to 20% catecholamines, 4 mg and 10% L-dopa, 2 mg.
Phosphatidylserine: A phospholipid (type of fat) found in cell membranes throughout body, with highest concentrations in the brain. 10 mg.
Vinpocetine: An antioxidant that protects the brain from free radicals.* It's also been shown to improve short-term memory function and increase critical reaction time.* May benefit brain health by promoting healthy blood flow.* 3 mg.
Huperzine A: A novel alkaloid isolated from the Chinese herb Huperzia serrata. May support healthy levels of the important brain neurotransmitter, acetylcholine.* 10 mcg.
*These statements have not been evaluated by the Food and Drug Administration. This product is not intended to diagnose, treat, cure, or prevent any disease.
---