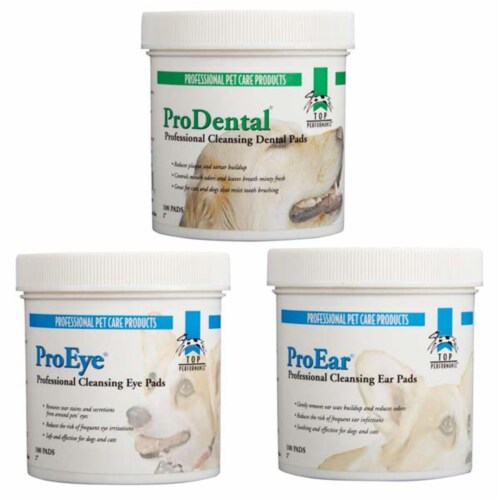 Hover to Zoom
Top Performance TP6775 11 89 Cleansing Eye Pads 100Pk
Product Details
Top Performance Cleansing Pads for cats and dogs now come in a convenient, easy-to-use pad size. Ideal for use on dogs and cats that resist having their teeth brushed, these easy-to-use Top Performance ProDental Wipes and Cleansing Pads safely and effectively help to remove plaque and tartar build up and control bad breath. Peppermint flavor leaves breath minty fresh.
. Formulations for eye, ear, and dental care.. Packaged in a 100-pack screw-top canister.. Pre-moistened pads make it easy to effect quick cosmetic and hygienic touch ups to eyes, ears, and teeth.. Packaged in a re-sealable 24-pack travel bag and an economical 160-pack canister. For quick cosmetic touch ups, use our NEW Cleansing Pads that come in a 100-pack canister
Type - Eye
Eye Ingredients: N-Hexadecyltrimethylammonium chloride, sodium chloride, aloe vera gel, propylene glycol, glycerol, purified water, methylparaben, propylparaben, diazolidinyl urea.
Precautions: Not intended for human use. Do not allow pet to ingest. If ingested, seek veterinary aid immediately. Keep out of reach of children.
Directions For Use of Eye Cleansing Pads: Thoroughly and gently wipe around pet's eye with Eye Wipes to remove dried mucus secretions, discharge, and tear stains. Use twice a week to keep eye exterior clean and help reduce the risk of eye irritations and itching caused by foreign matter. Unique formulation requires no rinsing. Use caution when using any product near animal's eyes. Do not use directly in eye. Recommended for pets only. Discontinue use if irritation or redness occurs.
---