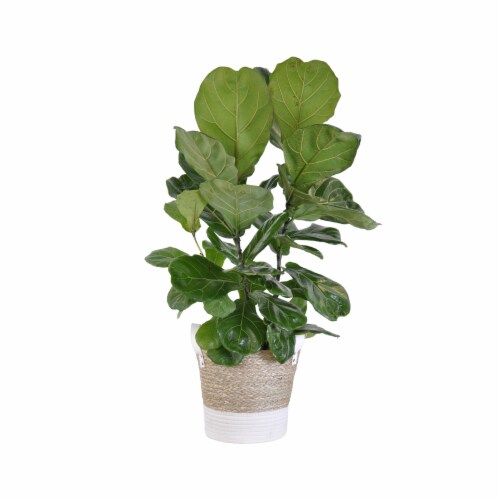 Hover to Zoom
Potted Ficus Lyrata Beige and White Wicker Basket
10-inch pot
UPC: 0084023660519
Product Details
The large leathery leaves of the Ficus Lyrata create a striking architectural display in any home or office. Commonly known as the fiddle leaf fig because its large leaves resemble a fiddle (or violin), the Lyrata enjoys bright indirect light indoors. With adequate growing conditions and care, the Fiddle Leaf Fig will branch with time to create an elegant small to medium size indoor tree.
Plant comes in a boho styled rush paper weave and rope stitched basket with water proof liner and matching white faux leather straps
Beautiful large striking leathery leaves
Can be pruned to promote branching and growth
Grows best in bright indirect sunlight
Fertilize monthly in Spring and Summer with water soluble fertilizer
We do not ship to California or Arizona due to U.S Department of Agriculture restrictions on tropical plants.
---