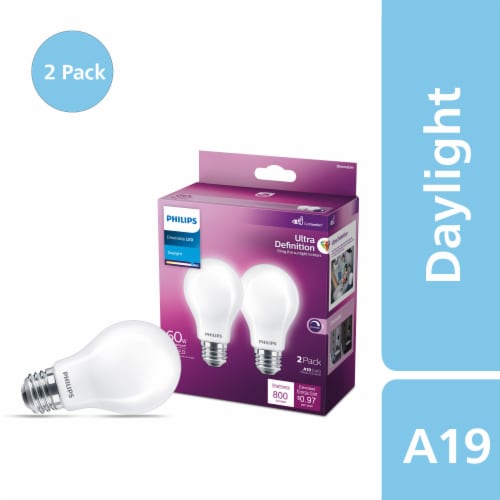 Hover to Zoom
Philips 8-Watt (60-Watt) A19 LED Light Bulbs
Product Details
This Philips Ultra Definition LED 60W equivalent A19 dimmable daylight bulb is specifically designed to provide high quality natural light that helps you see better. Enjoy comfortable, full-spectrum light that brings out the true colors and textures of your home.
Daylight: This bulb has a color temperature of 5000K, creating a lighting effect that is very close to that of natural daylight. Natural daylight helps with focus and making details easier to see.
See True Colors: This Philips Ultra Definition bulb brings out the true colors and textures of your home with full spectrum, natural light and a color rendering index of 95 (CRI95).
Help Care for Your Eyes: Philips EyeComfort LED bulbs are designed to be comfortable on your eyes, with no visible flicker or glare.
Commitment to Sustainability: When you choose Philips LED bulbs, you are choosing energy-saving products with plastic-free packaging.
Dimmable : This bulb can be used with most dimmers to create your desired ambience with smooth dimming to 10% of full light levels.
Familiar Glass Design : Get the look and feel of traditional glass incandescent bulbs with the energy-efficient performance of LED.
Long Lasting : Enjoy long-lasting, beautiful light for up to 15,000 hours, or up to 15 years with average use.
Energy Saving : Enjoy the energy-savings and beautiful light of Philips LEDs and save up to 80% on your energy usage.
---