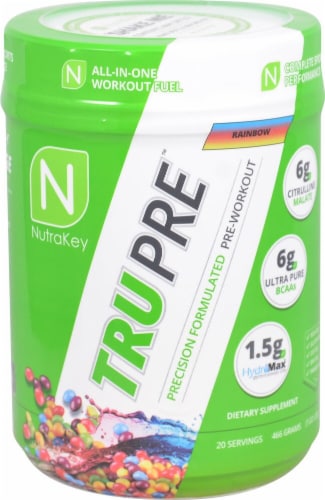 Hover to Zoom
NutraKey TRU Pre Rainbow Precision Formulated Pre-Workout
16.44 oz
UPC: 0085109000676
Product Details
The TRU Difference
Do you like to know what you're taking and how much you're taking? Does your pre-workout leave you guessing? TRU Pre™ has no proprietary blends, no deceptive dosing, and no filler - just a massive 23 g serving comprised of 13 proven performance enhancing ingredients. That's the TRU difference.
> Citrulline Malate Boost pumps. Citrulline significantly enhances blood flow, reduces fatigue, and improves strength.
> BCAAs Feed your muscles. BCAAs decrease muscle breakdown and encourage rapid recovery through increased protein synthesis.
> Beta Alanine Delay fatigue. Beta Alanine buffers lactic acid in muscle tissue, immediately boosting endurance and physical performance.
> Betaine Anhydrous Power up. Betaine increases physical output and delays muscle fatigue.
> Hydromax® Glycerol Full muscle volume. HydroMax Glycerol superhydrates muscle cells to increase muscle volume and power output.
> Taurine Take flight. Taurine enhances mental performance encourages nutrient uptake, and promotes fuller muscle pumps.
> Energy And Focus Build mind-muscle connection. Cutting edge nootropics deliver absolute clarity and unmatched drive to encourage full muscle engagement during intense training.
ENERGY • POWER • RECOVERY
---