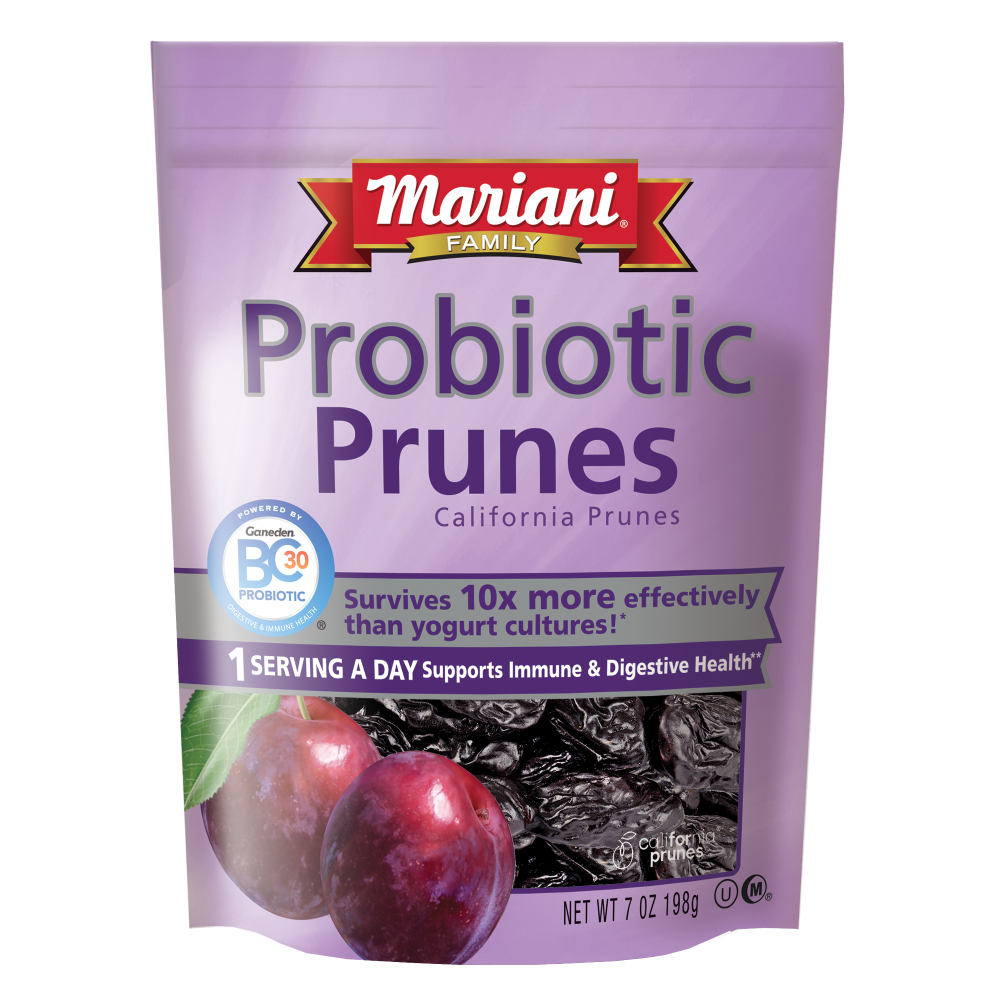 Mariani Probiotic Prunes
Purchase Options
Located in Aisle 2 in Your Store
---
A healthy digestive system is one of the keys to overall wellness and feeling great. Probiotics and dietary fiber work together to support a healthy digestive system.
Prunes are naturally a good source of dietary fiber, which helps to keep things moving and acts as a prebiotic, feeding the good probiotic bacteria in your system. GanedenBC30® bacillus probiotic cultures are unique, as they can better survive the harsh environment in the stomach, delivering active cultures 10x more effectively than yogurt!*
Mariani Probiotic Prunes and GanedenBC30® Probiotic Cultures...perfect partners in helping you to achieve overall wellness!
This bag contains about 5 servings!
Probiotic Cultures (Supports immune health)
Dietary Fiber (Supports digestive health)
Antioxidant Vitamins A and E
Vitamins B6, B12, and Iron
Prunes Help Support Healthy Bones
Pitted Dried Plums
Powered by GanedenBC30® Probiotic Digestive & Immune Health®
Delivers Active Cultures 10x More Effectively Than Yogurt!*
1 Serving a Day Supports Immune & Digestive Health**
Kosher
Per 40g Serving

Fiber 12% DV
Vitamin A 15% DV
Vitamin B6 20% DV
Vitamin B12 20% DV

*As a part of a balanced diet and healthy lifestyle.

**In an independent lab study of a simulated gastric environment with a pH of 2.0 for two hours, GanedenBC30® delivered live cells ten times more effectively than common probiotic yogurts.
---