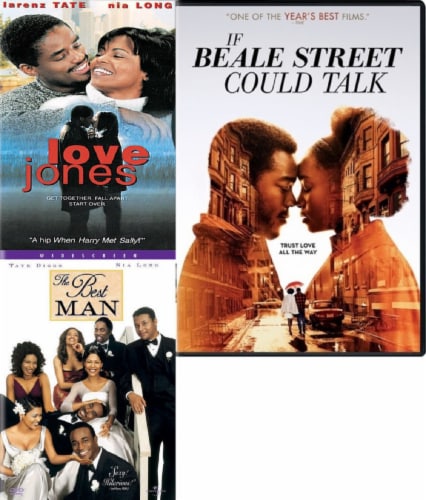 Hover to Zoom
Love Jones / Best Man / If Beale Street Could Talk DVD Bundle
Product Details
This bundle includes the following on DVD:
Love Jones - Darius Lovehall is an aspiring novelist. Nina Mosley is an aspiring photographer who has just broken up with her boyfriend. Fate brings them together and although she wants nothing to do with another relationship, his charm and persistence begin to wear her down and she eventually agrees to go out with him. As the romance thickens, the two of them lie to their friends about how far the relationship has gone. After breaking up with Darius, Nina tries to hold a relationship with one of Darius' friends, but the bond between her and Darius is too strong, and she no longer can deny the love they share and their romance blossoms again.
Best Man - After writing a soon-to-be bestselling novel, writer and committed bachelor Harper Stewart (Taye Diggs) attempts to hide the fact that his saucy new book is loosely based on the lives and loves of his tight-knit group of friends. Harper is set to be best man at his friend Lance's (Morris Chestnut) wedding, and all his friends will be in attendance. When an advance copy of the book makes its way into the hands of his ex-flame, Jordan Armstrong (Nia Long), Harper attempts to keep it under wraps.
If Beale Street Could Talk - In early 1970s Harlem, daughter and wife-to-be Tish vividly recalls the passion, respect and trust that have connected her and her artist fiancé Alonzo Hunt, who goes by the nickname Fonny. Friends since childhood, the devoted couple dream of a future together, but their plans are derailed when Fonny is arrested for a crime he did not commit.
---