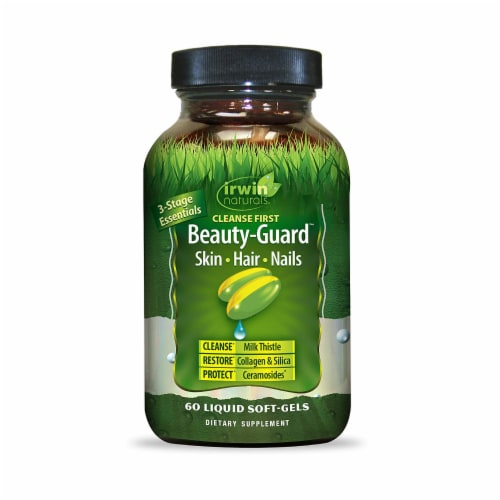 Hover to Zoom
Irwin Naturals Cleanse First Beauty-Guard Skin Hair Nails Liquid Soft-Gels
Product Details
Defy your age with Cleanse First Beauty-Guard featuring the 3-stage Essentials of Beauty Care - because sustainable improvements in beauty require a holistic approach.
Stage 1: Cleanse. The liver is the primary detoxifier of the body and plays an important role in helping you absorb fats from your diet which greatly impacts the health of your skin, hair, and nails.
Stage 2: Restore. Type I & III Collagen along with Silica from Bamboo Extract and Biotin provide building blocks needed to replenish important nutrients in the hair, skin, and nails.
Stage 3: Protect. Along with the restorative protection delivered by Ceramosides, a powerful combination of protective daily nutrients is provided including Vitamins A, C, E, and Zinc to combat the age-accelerating influences of photoaging as well as other environmental and lifestyle factors.
*These statements have not be evaluated by the Food and Drug Administration. This product is not intended to diagnose, treat, cure, or prevent any disease.

---