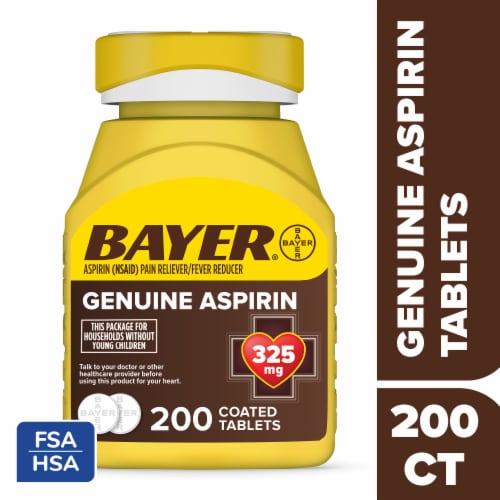 Hover to Zoom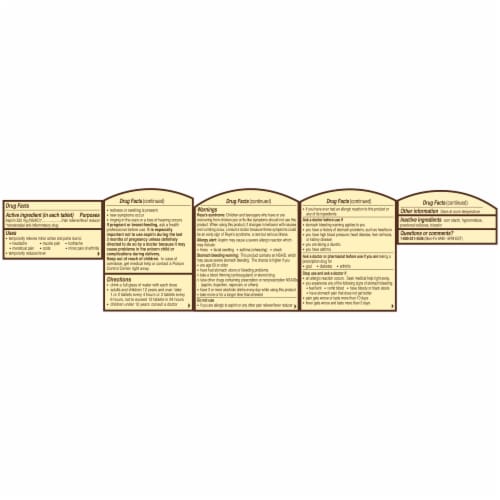 Hover to Zoom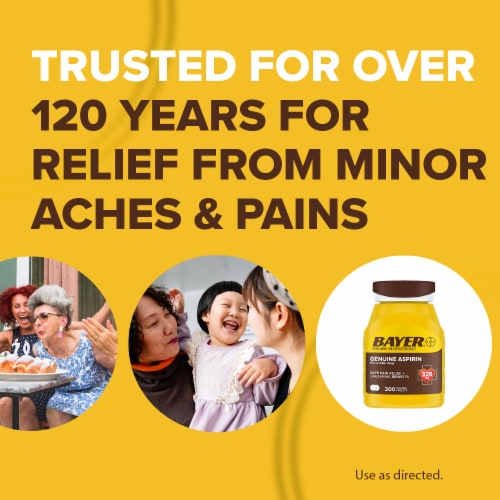 Hover to Zoom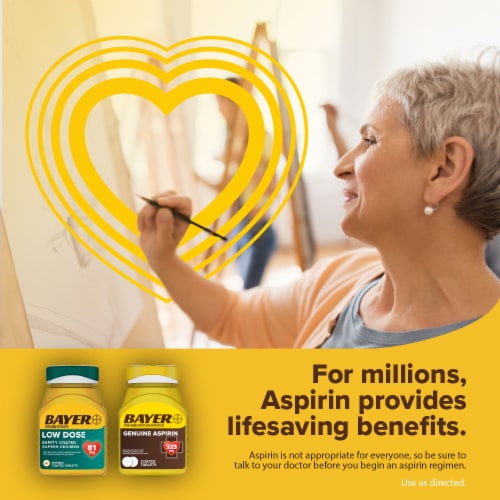 Hover to Zoom
Genuine Bayer® Aspirin Pain Reliever/Fever Reducer Tablets 325mg
Product Details
Bayer Genuine Aspirin 325mg Pain Reliever and Fever Reducer delivers safe and effective pain relief when used
as directed in easy-to-swallow coated tablets. These 325mg aspirin tablets can provide pain relief from minor
aches and pains due to muscle and back pain, toothaches, menstrual pain, headaches and minor arthritis pain.
Bayer Aspirin works fast at the site of pain, giving you pain relief so you can get on with your day. This caffeinefree
and sodium-free pain medicine comes in coated tablets that are easy to swallow. In addition, when directed
by a doctor, Bayer coated aspirin can provide lifesaving benefits by helping to reduce the risk of another heart
attack or clot-related (ischemic) stroke. In fact, aspirin is proven to reduce the risk of another heart attack by 31%
and to reduce the risk of another ischemic stroke by 22%. Trust Bayer, the #1 doctor recommended aspirin brand,
to help ensure you are there with the people who love you. Aspirin is not appropriate for everyone, so be sure to
talk to your doctor before you begin an aspirin regimen.
One bottle of 200 Bayer Genuine Aspirin 325mg Pain Reliever and Fever Reducer Tablets
PAIN RELIEF PILLS: Bayer 325mg aspirin provides fever relief, tension headache relief and back and muscle pain relief
FAST RELIEF: Acts fast to relieve tough pain
PROTECT YOUR HEART: Bayer Aspirin helps prevent another heart attack or clot-related (ischemic) stroke
when taken as directed by your doctor
EASY TO SWALLOW: Caffeine-free, sodium-free tablets are coated for easier swallowing
ASPIRIN REGIMEN: Aspirin is not appropriate for everyone, so be sure to talk to your doctor before you begin an aspirin regimen
---