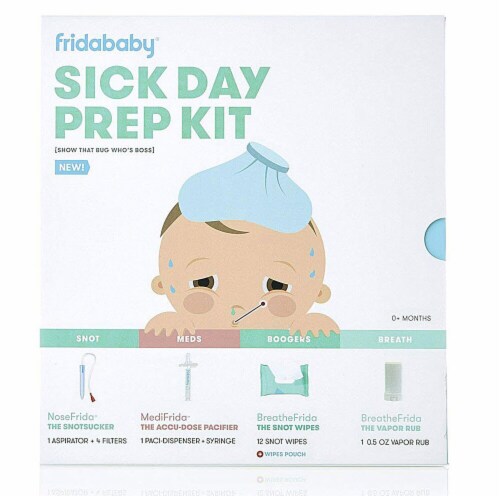 Hover to Zoom
Fridababy Sick Day Prep Kit
Product Details
When Baby Goes [VIRAL], You''ll Be Ready.
Baby caught a bug? There''s a kit for that. This is your superhero-level sickness survival sidekit filled with the solutions parents really need to get baby back to health.
[WTF] WHAT''S THE FUSS?
Kit Includes:
Stuffy Nose? NoseFrida® the SnotSucker
The cult favorite natural, hygienic baby booger buster. Suck it, snot.
1 NoseFrida® nasal aspirator
4 disposable hygiene filters
Runny Nose? BreatheFrida the Snot Wipes
The [better] BoogerWiper for snotty sniffers with all the benefits of a chest rub in fuss-free wipe form. Fall in love at first sniff.
12 wipes
+ On-The-Go Wipes Pouch
Medicine Mess? MediFrida the Accu-Dose Pacifier
A paci-style medicine dispenser that bypasses baby''s taste buds to deliver the full dose. No more messy spitups. It''s a dose of genius.
1 pacifier-style dispenser
1 oral medicine syringe
New!
Stuffed Up? BreatheFrida the Vapor Rub
Word to your mom, it''s the no-mess chest balm with organic ingredients to help baby do the simple stuff, like breathe.
1 0.5 oz baby-sized balm applicator
NoseFrida® the SnotSucker, NoseFrida® Hygiene Filters - Made In Sweden
MediFrida™ the Accu-Dose Pacifier - Made In USA
BreatheFrida the Snot Wipes - Made In Israel
BreatheFrida the Vapor Rub - Made In USA
---