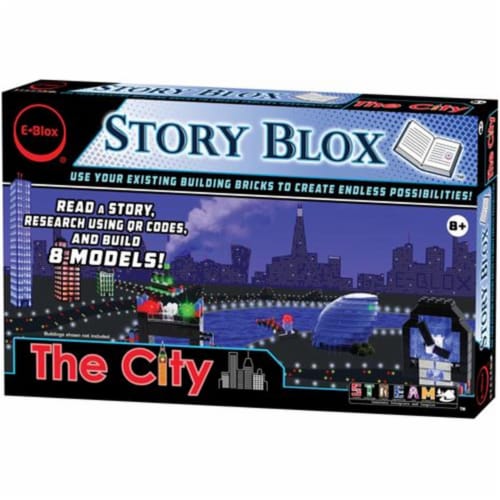 Hover to Zoom
Hover to Zoom
Hover to Zoom
Hover to Zoom
Hover to Zoom
Hover to Zoom
E-Blox The City Story Blox Building Set
Product Details
Ride along with Seymour E. Blox as he travels in an organic submarine. Help Seymour make emergency repairs to a famous bridge. Investigate a strange building and visit a famous clock tower and more.
Build 8 different characters or objects that all light up in this leading edge STREAM product
Contains 138 parts (24 unique patented parts including three 2-way LEDs you won't find in any other toy brick set)
Directly compatible with other brick building construction sets
Learn about series and parallel circuits, submarine technology, robotics, civil engineering, biology, architecture and more
Innovate Integrate and Inspire
S - Science
T - Technology
R - Reading
E - Engineering
A - Arts
M - Mathematics
How E-Blox Works
Tin-plated blocks safely carry electric current through a circuit from a 9v battery, lighting the light emitting diodes (LEDs). No messy wires, just a nice clean look.
Designed with Safety in mind if there is a short circuit, the battery holder makes an audible tone and the internal thermal fuse prevents overheating.
---