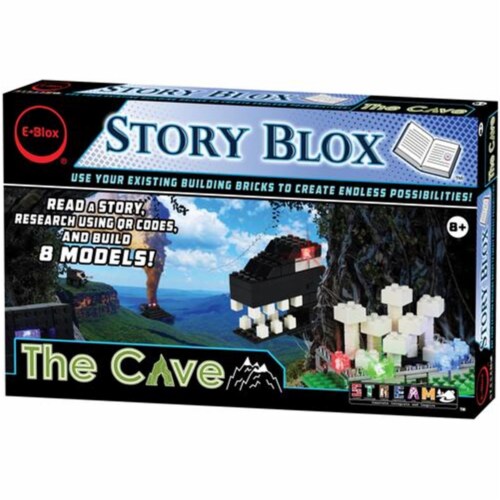 Hover to Zoom
Hover to Zoom
Hover to Zoom
Hover to Zoom
Hover to Zoom
Hover to Zoom
E-Blox Story Blox The Cave Building Set
Product Details
Follow Seymour E. Blox as he climbs a mountain and discovers a secret cave that holds the answers to many mysteries about Earth's history.
Learn about series and parallel circuits, mountain climbing, micro chip technology, flower botany & biology, Mycology (study of fungi), Spelunking (cave exploring) and more!
Contains 118 parts (29 unique patented parts including three 2-way LEDs and one color changing LED you won't find in any other toy brick set)
Build 8 different characters or objects that all light up in this leading edge STREAM product
Directly compatible with other brick building construction sets
Innovate Integrate and Inspire
S - Science
T - Technology
R - Reading
E - Engineering
A - Arts
M - Mathematics
How E-Blox® Works
Tin-plated blocks safely carry electric current through a circuit from a 9v battery, lighting the light emitting diodes (LEDs). No messy wires, just a nice clean look.
Designed with Safety in mind if there is a short circuit, the battery holder makes an audible tone and the internal thermal fuse prevents overheating.
---