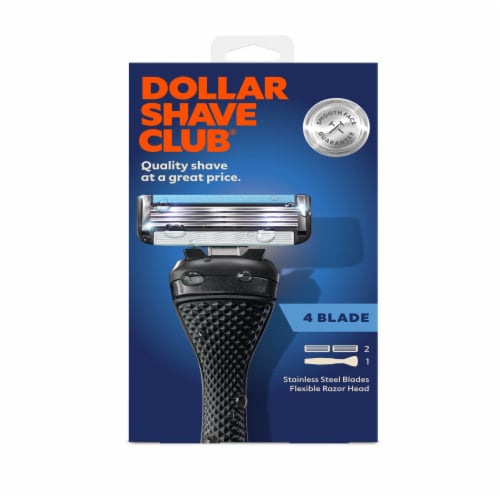 Hover to Zoom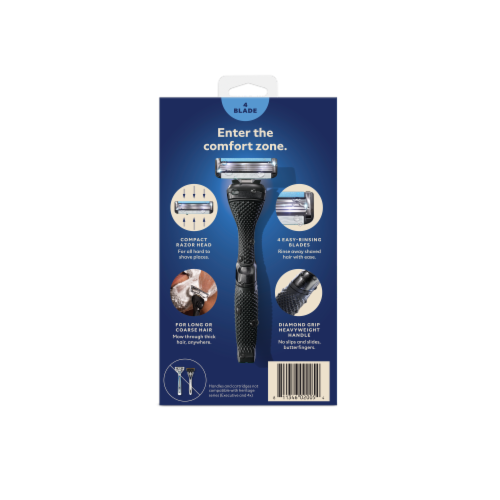 Hover to Zoom
Hover to Zoom
Dollar Shave Club™ 4 Blade Razor Starter Kit
Product Details
Dollar Shave Club's razors were made with your skin and hair in mind, and as part of our mission to help guys look, feel, and smell their best. The Dollar Shave Club 4 Blade Starter Set contains two razor cartridges with four stainless-steel blades and a weighty, diamond patterned gripped handle. Each of the four blades are precisely spaced, wide enough to allow thick and long hair to pass through with ease, as well as helping to prevent annoying pulling and tugging. The handle is thoughtfully designed with a distinctive diamond patterned grip to help prevent any unwanted slipping or sliding. This razor can tackle the wildest of hair forests whether they grow on the face, armpits or legs, making it the perfect razor for the all-terrain shaver no matter the body parts you're shaving. Prickly faces and untamed armpits agree, this razor's the real deal. So if you've got hair, the 4 Blade All-Terrain Razor's got you.
With four optimally-spaced razor blades for easy rinsing, you'll be able to shave hair wherever it grows.
If you shave infrequently or have long hair, this is the shave for you.
Make this all-terrain shave extra comfortable with our pre and post shave aids. Check out Shave Cream and Post Shave Dew to help achieve incredible smoothness.
Four precision cut, stainless-steel razor blades in a compact razor head help you achieve an effortless shave. The handle features a distinctive diamond-patterned grip to help prevent slipping.
Dollar Shave Club's got all the men's grooming products you could possibly need to tackle any shave. Welcome to the Club.
The Dollar Shave Club 4 Blade Starter Set is finally here. This bundle contains a diamond patterned grip handle and two replacement stainless-steel razor cartridges.

---