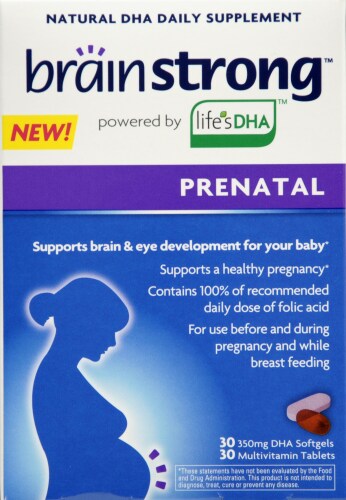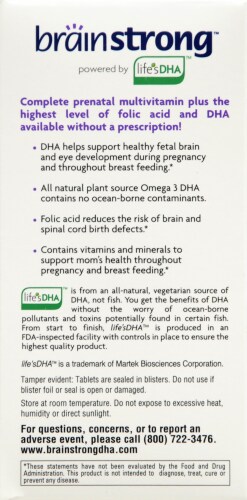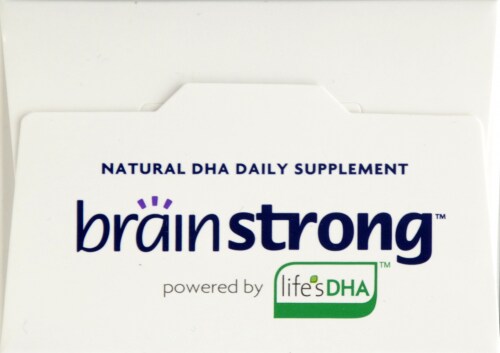 Brainstrong Prenatal Vitamins
60 Count
UPC: 0009296102003
---
life'sDHA™ is from a vegetarian source of DHA, not fish. You get the benefits of DHA without the worry of ocean-borne pollutants and toxins potentially found in certain fish. From start to finish, life'sDHA™ is produced in a FDA-inspected facility with controls in place to ensure the highest quality product.
Complete Multivitamin & DHA Supplement
Supports Brain & Eye Development for Your Baby During Pregnancy and Breast Feeding
Supports a Healthy Pregnancy
Contains 100% of Recommended Daily Dose of Folic Acid
Folic Acid Reduces the Risk of Brain and Spinal Cord Birth Defects
350mg of DHA, Highest Level Available Without a Prescription
Plant-Sourced Omega-3 DHA
30 350mg DHA Softgels / 30 Multivitamin Tablets
*These statements have not been evaluated by the Food and Drug Administration. This product is not intended to diagnose, treat, cure, or prevent any disease.
---